Services
A strong foundation gives a building or home integrity against the forces of nature. A foundation supports and anchors a building. It is also a water and soil vapor barrier. Importantly, a foundation is responsible for all the load transfers from the building to the ground. If you want the best quality foundation available read more to learn about Polystyrene Form Foam Insulating Panels
Polystyrene Form Foam Insulating Panels
Foam boards are rigid insulation panels made from extruded polystyrene. (Another name for polystyrene is Styrofoam the brand name.) They can be cut to measure and either installed on already existing basements or can be used in basements to insulate them while pouring the foundation. In our specially soon to be patented process, the foam boards are inside of the concrete walls. Foam board insulation is a great alternative to the very common fiberglass batt insulation that is in most of our homes. It has a higher R-Value per inch of thickness, it's resistant to moisture and is easy to work with.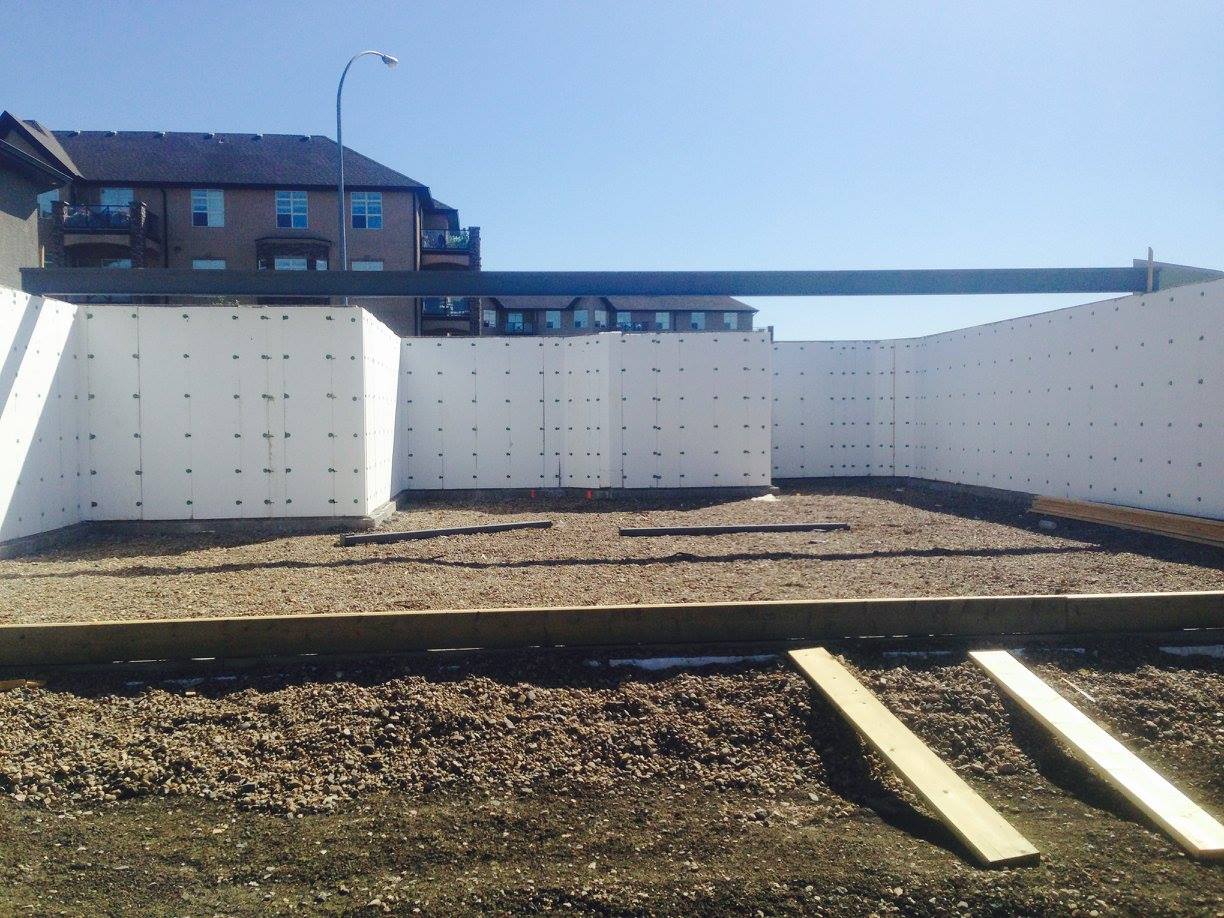 Polystyrene foam boards have the strongest waterproof properties
Polystyrene is made mostly of air, meaning it is a poor conductor of heat, but an excellent convector. It traps the air in small pockets, blocking the flow of heat energy. This reduces both conduction and convection and makes Styrofoam a good insulator.
So if you are looking for the best foundation with the most advantages, choose Polystyrene Form Foam Insulating Panels. Their advantages are many:
Mould control: No air space between the concrete and insulation where warm moist air could infiltrate, condense and grow mould.
Odour control: It is not conductive to bacterial growth
Dry and comfortable space: No inside condensation
Improvement of air quality: No harmful gas emissions
Higher energy efficiency: Energy savings of up to 1/3 of the cost of heating and air conditioning
Stability: No ozone layer depleting substances
Strength: Composed of solid and anchored plastic ties through the formwork and provides a solid substract to anchor finishing
Quickness: Combines casting concrete and insultation into a single step
Durability: Preserves its insulating properties for life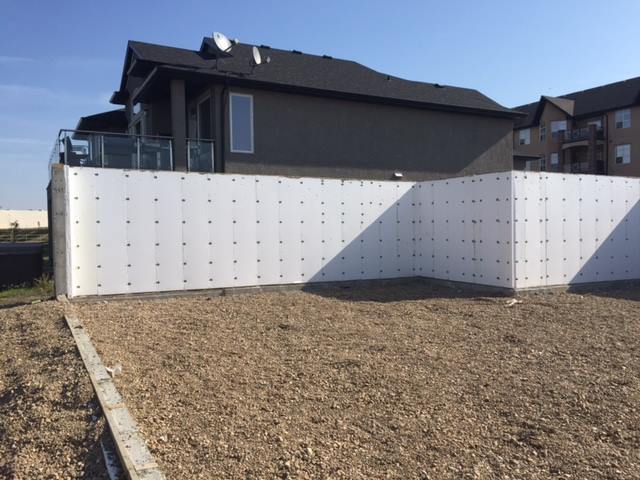 Custom Insulation We will happily custom cut rigid insulation board to your specifications and deliver to your home or job-site. We offer varying widths and lengths of 2" to 24" and 4" thickness for a perfect match with any form.
A poured concrete foundation can admit water through patches of porous concrete or over the top of the foundation wall. This can be prevented, or stopped, by applying an exterior waterproofing membrane to the foundation wall. Most often, basement waterproofing is done to an existing home, often years or even decades after it was built but most effective waterproofing techniques can also be done during construction. It can make sense to do this, especially with installations that require excavation because they can be done before the foundation is backfilled or the basement floor poured. One of the final steps to pouring a concrete foundation or basement for M & O Construction is to waterproof the outside walls before backfilling. M & O Construction uses Watchdog Waterproofing. Since 1983, the makers of Watchdog Waterproofing and the TUFF-N-DRI™ Basement Waterproofing System have built a strong track record of successful spray-applied waterproofing products.

Watchdog Waterproofing features a flexible, polymer-enhanced asphalt membrane that's spray-applied to poured concrete and block foundation walls. Spray application seamlessly spans foundation settling cracks and seals out water penetration (whereas air gap products have seams that can let harmful moisture through).
Availability and cost.
Watchdog Waterproofing is competitively priced and available through us at M and O Construction your Barrier Solutions Contractor.
For more information call us today at 306-757-9433 or visit watchdogwaterproofing.com.
Concrete
Not all concrete is the same. Concrete differs based on the type of materials used, the ratio of mix, the method of processing, the additives used in the mixture, and the form of hydration reaction. We use only the best concrete for our area. It has the properties of strength, durability, impact resistance, thermal and acoustic insulation properties, fire resistance, and density.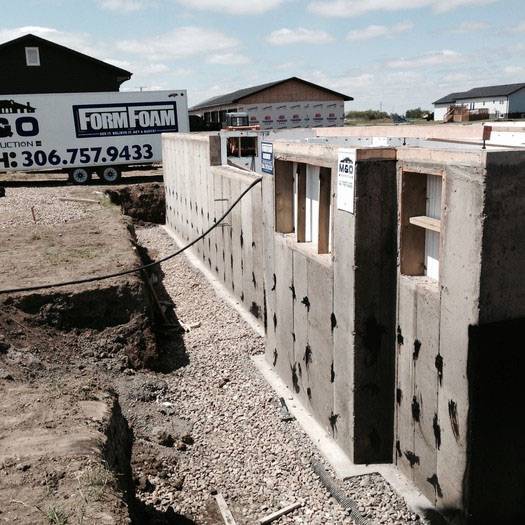 Basements
M & O Construction knows how to pour a basement that will last the test of time even in the adverse conditions of Regina and area. We have been doing it since 1979 and know our business. Every area of soil has unique characteristics, requiring different construction techniques to ensure optimum performance. We use only the highest-grade products and methods that make sense for our climate and soil. We are trained in the use of Polystyrene Form Foam Insulating Panels and Watchdog Waterproofing that can only be applied by Barrier Solutions Contractors.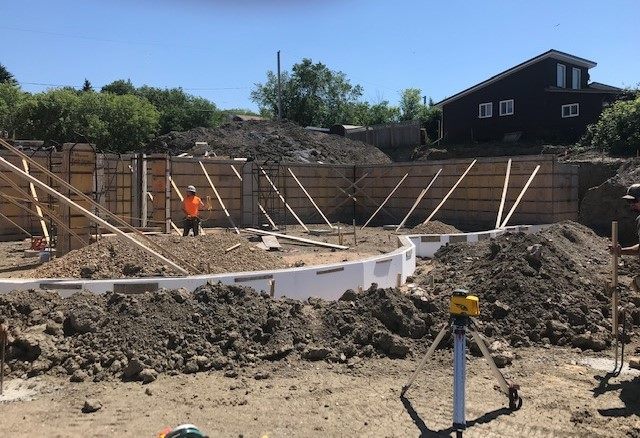 Grade beams (Commercial and Residential)
are components of a building's foundation. They consist of a reinforced concrete beam that transmits the load from a bearing wall into spaced foundations such as pile caps or caissons They are used in conditions where the surface soil's load-bearing capacity is less than the anticipated design loads.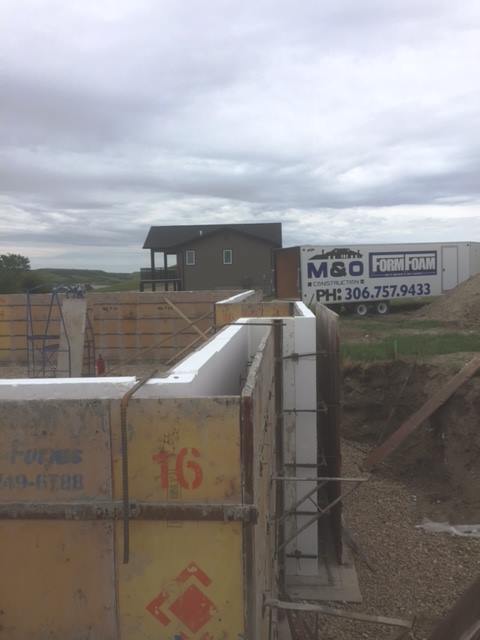 Piles
Piles of concrete are driven into the ground to support a structure. On unstable soils, piles are indispensable building supports and may also be used on stable ground when exceptionally large structural loads are involved.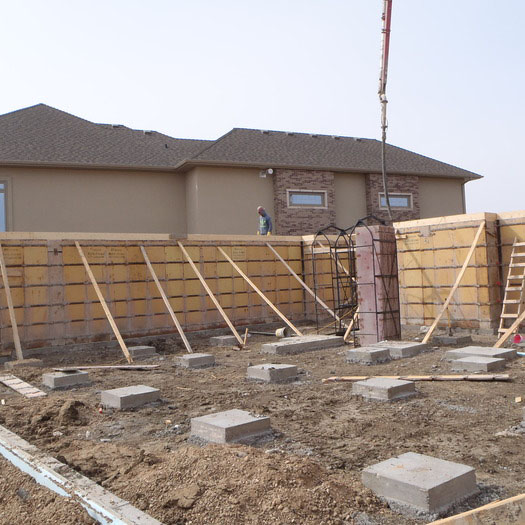 Floors
Residential
Concrete is an awesome material for building something that is durable and strong. One thing can be said about concrete: You can't scratch or dent a concrete floor! Concrete is becoming more popular not only for its strength and durability but its low cost as compared to high end flooring. And with the new finishing techniques, It still looks high end!
Pros of Concrete Floors
Low-maintenance:
Modern design options: Techniques for concrete finishing have moved concrete floors from run of the mill to gorgeous.
Heated floors

Commercial
What type of flooring is most commonly used in industries?
Industrial concrete flooring represents the world's most widely utilized concrete flooring, Polished Concrete Flooring and Commercial Concrete. The reason is that concrete floors are durable for high traffic areas and are seamless.
An industrial floor is any floor that is designed to comply with the requirements of each type of industry. Movement of load, chemical products, aesthetics, durability.
Each type of activity requires a pavement with different finishes:
Warehouses
Logistics centres
Food Industry
Textile industry
Airports
Shopping centrers
We do them all. Whether it is for industrial or residential flooring concrete is a great solution. Ask us for a quote.
Bobcat Services
Bobcats come in a variety of sizes, and because they have several attachments, there are hundreds of applications they can be used for. Some of those attachments include standard buckets, mowers, sweepers, trenchers, and stump grinders.
If you are doing any type of digging work, bobcats can dig and then move the dirt to another location.
Bobcats can demolish property and buildings. Getting rid of that concrete patio or driveway? A bobcat can do the job. Because they are smaller than bulldozers, they can fit into smaller spaces and are very versatile.
Bobcat Services We Offer:
Excavation
Grading
Road Maintenance
Brush Cleaning
Debris Removal
Construction
Demolition
Snow Removal
Lawn Prep
Planting